Best Shared Hosting Services:-
Linux shared hosting at Qodbex is the most popular and cost-effective hosting for businesses, organizations, or individuals looking to host a website. Whether you own an e-commerce website, streaming media, or even if you need a database solution, our shared hosting with PHP, Perl, MySQL, and SSI support can meet your needs.

The ideal Offer:-
Qodbex offers Linux shared hosting to consumers with websites that have moderate traffic levels. We offer multiple packages at highly competitive rates.
Packed With Features:-
Linux shared hosting at Qodbex is the best hosting solution that is budget-friendly and ideal in terms of quality and service. We can provide you with a host of features, such as shopping carts, automated backups, and security certificates. At Qodbex, our packages offer the best experience to our users.
• Better uptime, faster service
• Better script
• Access to the server
Sometimes malicious scripts or bad code can cause your server to stop functioning. As a result, you have no other option but to shut down every website on the server to avoid the situation. At Qodbex, our servers are located at NAC Data-Centre at multiple data centers. All our servers are located in a modern Network Operating Center, which means you will never have to deal with downtime.
Our Linux Web Server also offers the following plans: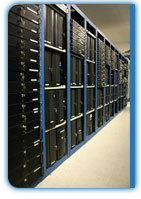 DELL Power. High Density Rack Server
Dual Intel Core Processors
24/7 Server Monitoring
99% Uptime
With Mirror configuration to provide fault tolerance to the data stored on drives
Money Back Guarantee
Dual embedded Ethernet ports from Intel
Hosting Features and Server Specifications
High-Speed Unix Servers

RedHat Linux
99.99% Uptime Guarantee
Unique FTP Accounts
Anonymous FTP
24 Hr/7 FTP Access
Cpanel Hosting Control Panel
Auto Backup
Raw Log Files
High Bandwidth

Advanced Features

MySQL
Personal CGI-Bin
Password Protected Directories
PhpMyAdmin
OpenSSH
Bind
Webalizer Site Statistics
Website Builder
E-commerce System

Email Features

POP3 Server
SMTP Server
POP3 Email Accounts
Unlimited Email Aliases
Auto Responders
Vacation Responders
WebMail
SpamAssassin Anti-Spam System
Virus Filtration System
Packages

Web Space

Monthly Transfer

Email Accounts

Email Forwards

Auto Responders

Email Alias

WAP Enabled

FTP Access

CGI Access

FrontPage Support

Flash Support

PHP Support

RealAudio/Video

Shopping Cart

Message Board

MySQL Database

S S I

S S L

Control Panel

Web Statistics

Monthly Price

Quartely Price

Semi Annual Price

Annual Price

Startup

500MB

2GB

50 POPMails

Unlimited

Unlimited

Unlimited

5

USD $10.00

USD $22.00

USD $40.00

USD $72.00

Economic

1GB

5GB

100POPMails

Unlimited

Unlimited

Unlimited

5

USD $12.00

USD $30.00

USD $52.00

USD $121.00

Business

5GB

20GB

Unlimited POPMails

Unlimited

Unlimited

Unlimited

10

USD $20.00

USD $40.00

USD $96.00

USD $177.00